Kangaroo Ceramic Tile Mosaic On Sandstone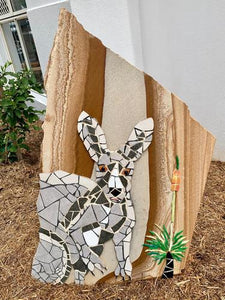 In some areas on the Sunshine Coast, Queensland, it is not uncommon to spot kangaroos in the wild. Early in the morning and late evenings, a group of ten or more eastern grey kangaroos are often spotted in a large open area, close to our home that used to be an active sugar cane field, when we first moved to the area, around twenty years ago. I can still hear the crackle and smell the burning sugar cane at harvest time. It is no longer a "working sugar cane field" (unfortunately) but still a large tract of vacant land. On a nearby golf course, kangaroos often congregate. On more than one occasion, over the past year, an adventurous (or lost) kangaroo has been spotted in the residential streets, hopping along the nature strip, right past our home. Our dog Nala, an immigrant from Singapore, didn't know what to make of it, never having seen a kangaroo before; they are quite rare in Singapore! She probably thought; "wow, you guys have big dogs over here!"
I decided to create a kangaroo ceramic tile mosaic to celebrate the wild kangaroos in the area. This mosaic, once completed, was placed in the front garden of our home. Who knows, it may just attract more kangaroos to our part of the neighbourhood.!
Firstly, the kangaroo was sketched onto the sandstone using a pastel coloured pencil. I chose two shades of grey ceramic tiles as the colour scheme; very appropriate for an eastern "grey" kangaroo. Darker grey ceramic tile pieces (tesserae) were cut precisely then placed in "shadow" areas on the kangaroo's body to give more definition and depth.
Tiles were cut to shape, then stuck down with ceramic tile adhesive, suitable for exterior use. I added a grass tree as a point of interest and to introduce some more colours to the scene.
As the colour of the tiles are dark shades I used a light coloured grout for contrast. Here is the completed mosaic, positioned in our front garden. I love the colours in the sandstone, especially when wet. The colours and contrasts are much more intense. The patterns in the sandstone could be the trunks of trees surrounding the land where the kangaroos congregate.
Now just awaiting more kangaroos to come by.