Giraffe Ceramic Tile Mosaic on Sandstone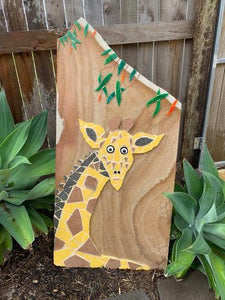 During a recent visit to the local landscaping supply yard I came across this beautiful sandstone slab. Gorgeous colours and patterns just calling out for a tile mosaic to be laid on it. I bought it, then lugged it back to my car parked in the street, straining all the way, wondering if it would fit in the boot. It did! A long, tall slab of sandstone.....hmmmm...... a giraffe, but focus on the head and long neck. Browns and yellows will compliment the colours in the sandstone perfectly! Perhaps a few green leaves dangling from the top. After all, isn't that what giraffes use their long necks for; to reach young, succulent leaves high above the ground !!??
After experimenting with a few designs, many of which were aborted, I settled on the following design. The giraffe was sketched on heavy gauge paper then cut out as a template that could be positioned on the sandstone. I then traced around the template with a pastel pencil to have the outline of the giraffe on the sandstone.
To add another layer of interest I decided to use matt brown ceramic tiles and gloss yellow tiles. I prefer to use ceramic tiles for outdoor mosaics as opposed to coloured glass. Ceramic tiles are more sturdy and colours are more solid. I do however, usually use coloured glass for the leaves of trees. I started with large ceramic tiles, smashing them into smaller fragments with a hammer. When required, these pieces (tesserae) were further shaped and cut using tile cutters and nippers. I position all tesserae onto the sandstone before sticking any pieces down with adhesive.
When I am happy with the placement of all tesserae I glue them down with thinset adhesive, suitable for external tiles.
After completing the giraffe I then cut coloured glass sheets for the leaves dangling down from the top of the sandstone slab.
Finally I used a bone coloured grout to contrast the darker brown tiles and compliment the yellow tiles.
I am very happy with the end result. I love the natural patterns and colour tones that appear in cut sandstone slabs, especially when wet, and often these can form an integral part of the mosaic and background to form a complete scene, or tell a story. In this piece, the sandstone background represents the trunk of the tree that the leaves are dangling down from. Do you see it?
Another gap filled in my daughter Lauren's backyard. I think even her dog Simba likes it!
If you would love a mosaic on sandstone piece for your garden, contact me to find out more. I can create a design to suit your needs for your garden. These also make the perfect gift for the garden and outdoor person in your life.