The Artists Learning Journey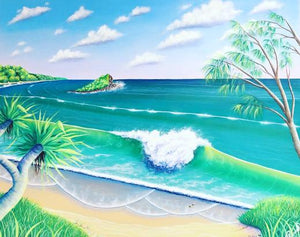 I believe art is a constant journey, evolving from the experiences you immerse yourself in. This might be people you meet, places you visit, or new learning experiences. I don't think your art can evolve and improve unless you are prepared to explore and develop new styles, techniques and media.
I am fortunate to be able to live in a culturally diverse country. Singapore is rich in a variety of beautiful places, wildlife, plant life, culture, history and traditions. With all of this brings new inspiration for exploring not only subject matter, but also exploring new techniques. It has also provided me the opportunity to participate in a number of workshops and courses.
I am also fortunate to be able to travel extensively in Asia and beyond, and to have experienced many different and diverse areas of the Seychelles, the Maldives, England, France, Australia, New Zealand and Fiji as well. Along the way I have been exposed to many interesting environments and been lucky to meet many interesting people. All of this combines to help become the artist I am today. But these experiences are only a part of the journey to developing and improving my skills.
In all careers personal development is vital to advance and improve. Over the past year I have participated in a number of workshops, courses and classes in a range of areas.
Here are just a few examples of my recent learning journey.
Museum Sketching Classes
The National Museum of Singapore is an amazing place full of history and culture. I completed two sketching classes here with Singapore-based artist and independent curator, Tang Ling Nah. In these workshops we visited the Treasures of the World from the British Museum exhibition to observe and record unique textures found on various artefacts such as statues, jewellery and tapestries. We then created designs based on these textures, using a range of materials from coloured pencils and paint to ink. We also took reference from selected portraits from the Treasures of the World exhibition, and learnt to sketch portraits using pencil on paper. Here are a few images from my Classes.
Watercolour Course
Watercolour was a completely new media for me. I had never experimented with watercolour before but was very keen to expand my knowledge and skill with a new media. I completed a 12 week course with the amazing Lucinda Law from Within. The course covered a variety of botanical watercolour skills and I learnt some amazing new techniques. Here are just a few images from the workshop and practice pieces.
Paint the Ocean Course
I completed an online course with the very talented Scott Christensen. Scott is an Australian artist who focuses on painting ocean and seaside landscapes in oil. This was an amazing learning curve for me, practising and honing new and old skills. I went on to create a number of oil canvases of seaside landscapes that are available for purchase in our shop. Here are a few progress shots from the Paint the Ocean course.
Pet Portrait Diploma
Pet portraits is something I have always been interested in, but was an area of my art that I really felt I needed some formal instruction to improve my skills. I completed a Pet Portrait Diploma with the London Art College. I am very pleased to say that I received my Diploma with a Distinction! It was a very rewarding and satisfying process and I am so happy with the progress I made over the duration of the course. I am pleased to offer Pet Portrait Commissions in a variety of media and sizes. 10 % of all our commissioned Pet Portraits go to support pet shelters In Singapore and on the Sunshine Coast, Queensland. If you would like to have your furry friend portrait completed, please contact us. Here are a few images from my Diploma Course
Basic Modern Calligraphy Workshop
At Red Brush Art we offer personalised name and birth samplers, as well as Save the Date and Wedding Stationary. I wanted to improve my calligraphy skills and this was a great workshop at Overjoyed in Singapore to pick up some tips on calligraphy. If you would like a personalised name sample, personalised birth sampler, or personalised wedding stationary, please contact us.
Cityscapes Zentangle Workshop
Zentangle is an amazing style of art using patterns to fill in shapes, be it flora, fauna or architecture. This was an interesting workshop where I was exposed to the basics of the Zentangle style. From this workshop I developed my own techniques and style to create many sketches with a "tangled" element. I found this technique very soothing and therapeutic, it was very easy to get lost in all of the patterns. Go to our Drawings page to view just some of the samples. More can be seen in our studio.
I'm constantly on the lookout for new workshops and courses that can help improve my skills or expose me to new styles and techniques. As an artist on a never ending journey to see where life and experiences can take me, my striving to learn is an important process in this journey. I hope you will join me on this journey